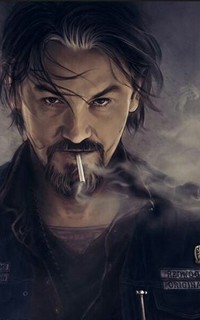 • Enfance/Childhood: Duncan was born near Elgol, in a small town in the isle of Skye, a few decades ago, in a small but happy peasant family. While his mother had always lived there, his father was a lonely traveler from Norway who, once he had met her, could not have continued to travel without her at his side. This is why he decided to settle in Skye and to found a family, some things he had never thought of.
The young lad was their last born child since he had an older sister, his elder of three years, and their parents had not intended to stop here.

So, this is where Duncan was raised, in a poor but no so uncommon Scottish family in these times. And, well, life was rough but good at the same time. Of course they did not have much to live and Duncan had to help his father at work very soon, but he never complained about that. Anyway, that was the only life he knew and could even think of. He had heard some stories about all those rich people, living in castles and all, but could not really trust them. After all the only castle he had ever seen was when he would go into town with his father to sell their products, and he had never been able to go in.

As I said, life was as good as possible for them. They had a house, a land to farm and were all healthy. Things were g oing well.
Duncan grew up, tried to learn how to fight with a sword with sticks and wanted more and more travel to through the world, just like his father did. But his mother did not want to leave her clan, and as she was pregnant once again it was not possible for her. But Duncan did not want to leave them. After all, his father needed him... so he stayed with them.

And life went on.

Duncan was almost twenty now. He was already a grown man in charge of his family and his sisters and in age to get married. He fell in love with a wonderful lady, Ailein, who loved him too.
And all was so perfect that it could not last forever.

And it did not.

One day, as he was coming back from a trip from one of the adjacent town, he saw the most horrible sight in his life. Fire, fire everywhere. His whole village was burning, and he was not there to save them. He ran as fast as he could -who knew, they could be survivors-, but nobody was there.
That's when he saw him. Just a shadow beneath the flames, standing in front of him. And he was smiling, he had that smirk Duncan would never forget. He did not try to figure out who he was and immediately ran to him and followed him into the fire. Because at that moment all he could feel was rage. So deep in his mind that he could not think of anything else. That's why he did not realize that he was following him between the flames, until they stopped... And Duncan knew where he had led him; it was his own house ravaged by the fire... but it did not hurt him, it was more like meeting an old frien. An ally. The most powerful ally he could ever rely on.
So he let the stranger run away and stayed there, crying for his family.

At dawn, there was nothing left but ashes and burned corpses, but Duncan was still there. Silent. But his angered soul was now full with only one wish: revenge.
He began to travel a lot, always collecting more and more information about that stranger he had seen, and started to learn how to control his fire too. His sweet friend who has always been there for him since that day.
During his journey, he managed to learn that the shadow was a demon and then began to hunt him. His whole life was dedicated to this one purpose: Avenge his family. Avenge his fiancee. Avenge his clan.

And finally, after years and years of travel, he found him.

But nothing had prepared him for that battle and it appeared that this demon was way too strong for him. The only thing that saved his life that day was the fact that he was a Phoenix. A bird of fire, who rises from its ashes. So, this is what he was. A Phoenix. And his opponent did not know how to kill him once and for all, but he left a present to Duncan. A little gift, so he would never forget him. He cut his cheeks then ran away once again, while Duncan was losing all his blood.
He woke up in that same nasty alley, and immediately fled for Norway, his father's country. He would never forget that demon, but had to train first.

• Famille/Familly: As I said earlier, Duncan was raised in a peasant family. His parents had a little farm in the isle of Skye who was not that tall but satisfied their needs. There was his Scottish mother, his Norwegian father -who was a traveler but had decided to stay with his wife once he met her- and his sister, older than him by three years. There was just them, but they were happy just like they were and did not ask for much more. Also, his mother's clan was like a huge family too, so they never were truly alone.
They stayed like that for many years, and his mother only got pregnant again when Duncan was over twenty years old... he would never know if it was a baby brother or a sister.

Now his entire family and his clan are dead, murdered by the demon he would hunt down until one of them was dead.

• Vie actuelle/Nowadays: After spending many years of his life in Norway, Duncan is finally back in his native country: Scotland. He's older now and more hurt by life than he was the first time he fought against the demon, but he has not forgotten him. In fact, if he's back in Scotland that's mostly because he has heard that this demon could be there too... he's stronger now, he may have a chance to hurt him this time.
But the new times came with some great inventions and he learned mechanic with great enthusiasm, especially about motor cycles.
On his Harley Davidson he began to ride around the country, giving a hand here and there when he needed some money, but never staying more than five years in the same place. He wants to find that demon, but as he does not continue to grow up has to be careful not to be discovered.

• Comment avez-vous connu l'hôtel Miracle?/How did you know the Miracle Hotel?: Some rumors about the demon brought him to Edinburgh, the capital, where he heard he was staying since few months. Duncan does not know why he is here, or even if it's true, but if he can reach him he won't miss that chance.
He found the hotel by chance while he was looking for some place to stay. He doesn't think he could afford it for a long time, so he hopes they may need a mechanic or a driver between them, because he surely won't clean rooms. And a great hotel like this one will certainly have some kind of parking... wouldn't it ?