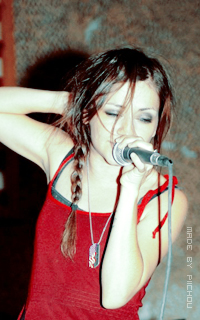 • Enfance/Childhood: I can speak with you about my childhood but you need to know that this isn't the most interesting part of my life. I grew up in the Tennessee state in the US. I wasn't born there, even not in this country. I was born in Moscow, in Russia, ex USSR. So I said you I lived in Tennessee during the most part of my childhood, even though, more or less the all part of my childhood. We used to live in countryside house in a village with my mother. She was married to a man who wasn't my father even if I knew it and I called him daddy. My family name was the same name as this person who was like my real father during a long time. But today, this isn't anymore my identity. Today my name is Lockart, the young family name of my mother.

During my childhood, and when I was only five years old, I saw the man who was like my father being killed in front of me. I can't remember all the details of this day but I can remember some. The man who killed him was Russian. I can remember his last sentence. He said "goodbye" to the man who was like my father, in Russian. I was surprised and shocked about what I saw this day. After the murder of the man who was like my father, I received my first letter from Russia. It was sent by my real father. I can't really remember what was written on the letter because I was to young to read it and it was my mother who read it. I just felt strange when she burnt the letter few time after.

I received lots of letters from my father. Little by little, we were created a new language which we were the only persons who were able to read it. I called my father "Dedmi" in the letters. Next to this situation, I went to school and learnt lots of things. I wasn't very good at school but I passed my exams and was graduated. After school, when I was in University, I entered a music band with a rock metal style as singer. Very quickly we became famous in the all US. My father was afraid by the celebrity of our band. My mother was dead there two years ago and that was the beginning of my new life.

• Famille/Familly: With the description of my childhood I can imagine that you understood my family was a little bit strange. My mother was american. She met my father in Russia during her university graduation. They felt in love very quickly and I was born few time after their first meeting. If my mother was american, she came from Tennessee, my father was Russian. He is very influence in the mafia's world in Moscow, he is one of the leaders of this organization. His name is Igor Mafkonov. I lived with him and my mother during two or three years, I didn't know really. But my father was afraid about us and after having talked with my mother and his organization, my mother decided to come back in the US, in Tennessee. After that, you know the following events, she married with a man who has as family name Lockart.

• Vie actuelle/Nowadays: There are two years, my father came in the US to visit me after so much time. He explained me his working affairs and proposed me to come with him in Russia. It was exactly what I did. I didn't have any relative in the US anymore, and I wanted to discover my father that I really didn't know. He proposed me to change my identity and it was what I did. When I arrived in Moscow, my father gave me a flat and some addresses to work as singer in bars. I had a mission, discover what was planned in the other mafia organizations. I did it.  

• Comment avez-vous connu l'hôtel Miracle?/How did you know the Miracle Hotel?: Moscow became dangerous for me. I knew to many things and my life was in danger, my safety wasn't guarantee anymore. I talked with my father about that and we both decided that it was the time for me to disappear in a foreign country. I heard about this hotel in bar where I used to sing and I thought it was a great place to be hidden without any problem with my past and my life in the organization.